What is your workplace's personality? You know the feeling you get when you walk into the break room on a Tuesday morning looking for something from the vending machine or walking down the hall on Thursday afternoon. Hopefully, it comes across as a welcoming, friendly, and purposeful place.
While many characteristics create a company's personality, there is one space or room in the building that can have a big impact. That space is the break room.
Let's take a look at what three types of break rooms can do.
I don't really have an opinion.
A generic space will likely have minimal impact, either good or bad. It's just sort of there. The choice of snacks and beverages will be okay. Even though this type of room isn't negatively affecting the workplace personality, it is a missed opportunity.
I only visit if I have to.
Unlike a generic break room, the unpleasant break room is a space that drives employees off-site during breaks and mealtimes. For whatever reason, Augusta employees feel they can't find what they need, whether that's fresh food, a great coffee, or just a comfortable place to relax for a few minutes.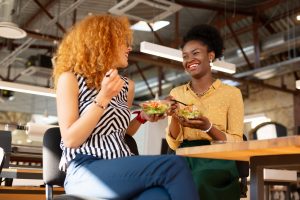 Let's go to the break room!
The vibe of an inviting and energetic space spills out into the rest of the office or facility. It's a place where people want to be. Employees will want to go there for coffee breaks and snacks or meals. They can see that their employer understands which products are most trendy.
With more people visiting the space, there are a lot of occasions for unplanned conversations and brainstorming. These types of interactions can be energizing and inspiring. Both of which can positively affect productivity.
A great break room can also let everyone know that it's okay to take a few minutes to relax and recharge. Employees appreciate being treated by their employer as a person instead of a number or machine.
The Break Room Solution
Not sure where your Augusta break room fits in?
Thankfully, it's easy to turn an unpleasant or generic space into one that boosts morale. Riverside Refreshments offers Augusta companies several types of vending services, from micro-markets to vending machines. Each service can be customized to fit your organization's unique needs. Choose from a selection of fresh foods, better-for-you and traditional snacks and beverages, and coffee service.
For more information about updating your current refreshment menu or designing a complete overhaul, please contact us at 706-793-2723.