Grabbing a cup of coffee during the workday shouldn't have to be complicated. The whole process of going to the corner coffee shop, standing in line, waiting for your order, and going back to work is time-consuming. And time spent away from work isn't the only cost. Lost productivity and fewer chances for spontaneous collaboration are two more.
An Easy Solution
Your Augusta break room doesn't have to mirror a full-service cafe. One with baristas that create works of art to be the perfect location. A micro-market with everyone's favorite fresh foods, snacks, and beverages plus coffee service or a bean-to-cup brewer will do the trick.
Not only will it help keep employees energized and hydrated, but it's part of a good business strategy. Coffee and espresso-based beverages are a perk that everyone loves. Your company can choose to offer its beverages at no cost or charge per cup at the micro-market kiosk.
Mike Cochrane, Vice President of Sales and Business Development at Cafection, explained, "With bean-to-cup, you get to experiment with new drinks while participating in a sustainable industry that produces less waste."
A single bean-to-cup brewer offers a variety of hot beverages, is cost-effective, and can have a big impact. Including one in your micro-market keeps Augusta employees on-site during the workday, provides energy, and fuels creativity.
What Is a Bean-to-Cup Coffee Machine?
A bean-to-cup machine is precisely what it sounds like. Several different kinds of whole beans are placed in the machine. They are left untouched until needed. When an employee wants a beverage, the machine grinds the beans to the correct fineness, brews them to order, and creates the desired drink. The short time between grinding and brewing makes sure the coffee grounds are as fresh as possible.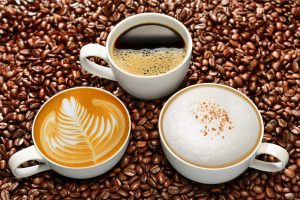 The combination of different beans, grind settings, flavor additions, and cup sizes results in a diverse menu. Below are just a few of the options a bean-to-cup brewer can offer.
Traditional Coffee (available in light, medium, and dark roasts)
Bean Options 1, 2 and 3
Decaf
Combinations of the four options above
Hot Beverages
French Vanilla: coffee plus French vanilla flavoring
Vanilla Mocha: coffee plus vanilla flavoring and hot chocolate
Mochaccino: coffee plus hot chocolate or cocoa powder
Vanilla Mocha: hot chocolate plus vanilla flavoring
Chocolate Latte: hot chocolate with milk
Gourmet Options
Energy Shot: a shot of espresso plus vitamins that deliver energy
Hot Shot Blend: 2 shots of espresso for when you need a caffeine boost
Long Espresso: a shot of whipped espresso that is more bitter than a regular shot of espresso
Café Latte: espresso plus milk
Cappuccino: a shot of whipped milk topped with whipped espresso
It's time to discover the effect that a single bean-to-cup machine in your micro-market can have on your Augusta employees. If a micro-market isn't a good fit for your place of business, vending machines and one or more single-cup brewers are a great alternative.
For more information about our micro-market and bean-to-cup options as well as our other break room services, please contact Riverside Refreshments at 706-793-2723. We look forward to hearing from you!